DISCLAIMER:
Back-up runtime information is based on estimates. Actual runtime may vary depending upon the power factors of the protected equipment and the condition of the UPS batteries. SizeMyUPS information is provided for reference only. It is provided "as is" without warranty of any kind, express or implied. Products specifications are subject to change without notice. Please contact a Minuteman representative for more information.
UPS Specifications: (Email/Fax this page)
External battery pack for the E750RM2U through E1500RM(T)2U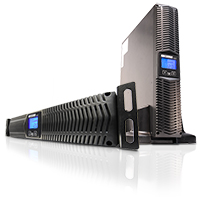 Discontinued Product

Model: EBP36XL Battery Pack Buy this product
Manufacturer's Suggested Retail Price: $459.00 USD (48 Contiguous U.S. States Only)
Applications: Extends battery backup runtime
Warranty: 3 Years - Parts & Labor Including Batteries
UPC: 784755152435


Description:
The EBP36XL Battery Pack is a 36VDC14.4AH battery pack with internal charger that extends runtime on the E750RM2U through E1500RM(T)2U units.




Features:
Internal AC charger recharges battery pack quickly after discharge
Multiple battery packs may be daisychained together for unlimited runtime
AC and circuit breaker LEDs display status of AC charger and battery pack DC breaker
Rotating LED panel to match orientation for horizontal/rack, tower or wallmount units
Stand for a tower configuration as well as fittings for a 19-inch rack
23-inch rack and wallmount kits (optional)
Three-year parts and labor warranty
Battery:
User replaceable battery? Yes
No. of internal batteries: 1
Replacement battery description: Battery module
Replacement battery part no.: BM0033
Replacement battery suggested retail price: $299.00 USD (each)


Product Dimensions (in inches) :
Length: 17.30
Width/Depth: 17.00
Height: 3.50
Weight: 55.00 lbs.
Email or Fax this page: (*Indicates required field)
*From (Name):
*From (Email Address):
Add Notes (250 char max):
Email a copy to the From Email Address (for Email only)