DISCLAIMER:
Back-up runtime information is based on estimates. Actual runtime may vary depending upon the power factors of the protected equipment and the condition of the UPS batteries. SizeMyUPS information is provided for reference only. It is provided "as is" without warranty of any kind, express or implied. Products specifications are subject to change without notice. Please contact a Minuteman representative for more information.
UPS Specifications: (Email/Fax this page)

6000 VA On-line UPS (Dual Voltage Out)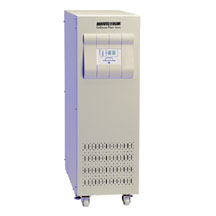 Click image for larger version.




Discontinued Product

Model: MCP 6001 Buy this product
Product Shipping & Logistics Sheet: Click here to view PDF
On-Battery Output Waveform: True sine wave
Manufacturer's Suggested Retail Price: $4,529.00 USD (48 Contiguous U.S. States Only)
Applications: Workstations, PBX Systems, Network Servers, Critical Apps
Warranty: 2 Years - Parts & Labor Including Batteries
UPC: 784755150295


Description:
MCP 6001 is a dual voltage output 6000VA/4200W on-line UPS with hardwired input & output , multiple voltage options, and SNMP capability.
Back-up time - full load: 12.7 minutes
Back-up time - half load: 29.7 minutes

Runtimes for small loads of less than 10 percent of the stated capacity of a given UPS may vary greatly. Please call to confirm most accurate runtime for small loads.


Features:
True On-line, Double Conversion Technology
True Sinewave Output
Isolation Transformer
208V or 240V Input
Hardwired Output Voltage Combinations Include: All 120V out, 120V/120V out in 2 separate segments, all 208V out, 120V/208V out, all 240V out, or 120V/240V out
Includes MINUTEMAN SentryII ™ Power Management Software CD and Communications Cable
Properties:
Device type: Uninterruptible Power Supply
Input plug type: Must be Hardwired at Site
Input voltage: 208/220/230/240
Output voltage: All 120, 120/120, 208, 120/208, 220, 230, 240, 12
Number of fully protected outlets: Must be Hardwired at Site
Number of surge protected only outlets: None
Phone / modem (RJ-11) protection? No
Network (RJ-45) protection? No
No. of serial (DB-9) ports: 1
No. of dry contact ports: 0
USB port: No


Battery:
User replaceable battery? No
No. of internal batteries: 20
Replacement battery description: 12 Volt DC 7.2 Amp Hour
Replacement battery part no.: B00007
Replacement battery suggested retail price: $39.00 USD (each)


Technical Attributes:
SNMP manageable? Yes
Power in Watts: 4200
EMI/RFI filtering? Yes
Protected equipment insurance value: $40000 USD (US and Canada Only)
Switchover time: None


Software:
*Operating system shutdown software included:&nbspYes

Op. System(s) supported by SentryII software (download here): &nbsp Microsoft Windows 95/98/ME/NT4/XP/2000/2003 (SP6 recommended for Windows NT 4.0), Novell NetWare 4.11 and 5.1, Red Hat Linux (versions 6.12, 7.1, and 9.0), SCO UnixWare version 7.1.1, SCO Open Server version 5.06, HP-UX version 11, IBM AIX version 4, and other Unix/Linux systems


Product Dimensions (in inches) :
Length: 10.25
Width/Depth: 21.75
Height: 31.50
Weight: 272.00 lbs.
Email or Fax this page: (*Indicates required field)
*From (Name):
*From (Email Address):
Add Notes (250 char max):
Email a copy to the From Email Address (for Email only)